CELINE >
La Collection Printemps-Été 2006 a été l'occasion d'une mini-refonte du site web de la marque, voici un aperçu de l'évolution :

PAGE D'ACCUEIL
Conception d'une nouvelle page d'accueil épurée avec une navigation privilégiant l'accès direct aux nouveautés. Mise en valeur de la campagne pub de la saison.

COLLECTION PE06
Nouvelles rubriques et sous-rubriques et augmentation du nombre de modèles exposés.

DÉFILÉ AH 06/07
Outil dynamique permettant la mise en ligne du défilé en un temps record.

UN SITE EN CHINOIS
Le site web est maintenant disponible en version chinoise.


CELINE >
Site renewal for the occasion of Spring-Summer 2006 Collection.

COVER PAGE
A new design with a focus of the advertisement image of the season. Easy and direct navigation tool is implemented for this occasion.

SPRING-SUMMER 06 COLLECTION
New organisation for items (RTW, leathergoods, shoes and accessories) from
the new collection.

FALL WINTER 06/07 FASHION SHOW
Complete looks are exposed with this dynamic tool which allows fast web publication.

FULL CHINESE VERSION
The chinese version is now available in its full contents after French, English and Japanese.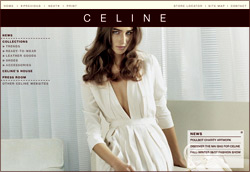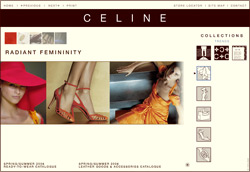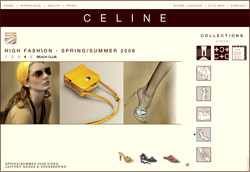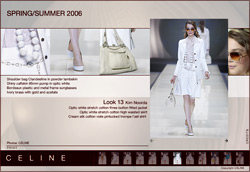 CELINE >
POULBOT CHARITY ARTWORK
Un mini site a été conçu à l'occasion de la vente aux enchères des sacs "Poulbot" dessinés par les enfants des stars, françaises et internationales, au profit des enfants malades.

CELINE >
POULBOT CHARITY ARTWORK
A mini website exposing "Poulbot" bags designed by French and International stars' kids for the benefits of other children through a charity auction.